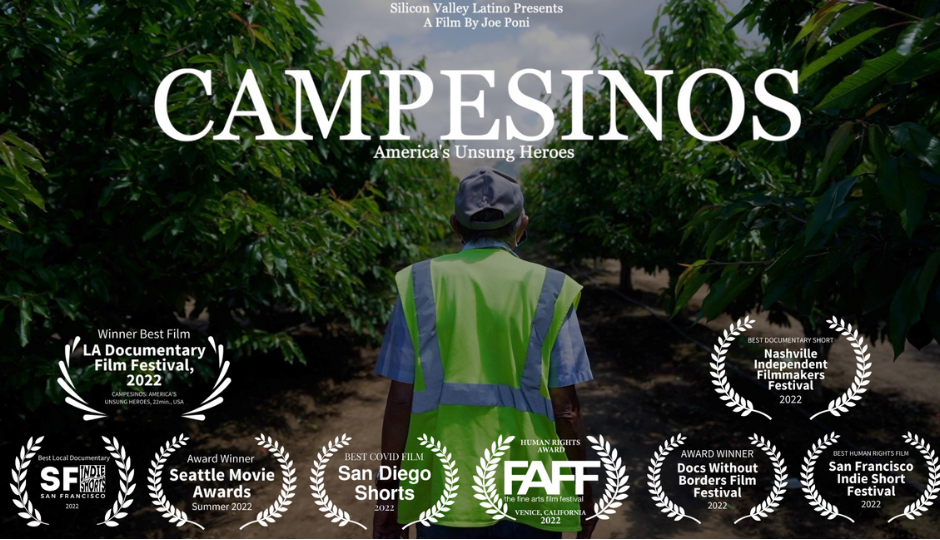 Co-hosted by the California Latino Legislative Caucus, join Assembly Speaker Robert Rivas, Assemblymember Marc Berman and Senator Josh Becker for a film screening of the award-winning documentary "CAMPESINOS: America's Unsung Heroes."
Filmed during the pandemic, the documentary focuses on telling the story of the hardworking farmworkers of California.
When: August 23rd from 4-5pm
Where: California State Capitol, Eureka Room
RSVP: https://forms.gle/qbr2u4QNLXM2cERd8
Trailer: CAMPESINOS (trailer & testimonials) on Vimeo
More details
In California, our hard-working farmworkers tirelessly devote their lives to contributing the nation's food supply without fail, day-in and day-out, regardless of the issues the country faces (wildfires, extreme heat, pandemic, etc.). During the COVID-19 pandemic their dedication, hard work and role was deservedly recognized as "essential". This documentary takes a deeper look into their day to day lives. The mission of our film is to raise awareness on how vital our farm workers/field workers are to our society while paying tribute to them and offering the recognition they deserve.
Awards
Best Film 2022 Los Angeles Documentary Film Festival
Best Human Rights Film 2022 San Francisco Indie Short Film Festival
Best COVID Film 2022 San Diego Shorts Film Festival
Best Short Film 2022 Los Angeles/Toronto Documentary Film Festival
Best Documentary Short 2022 Nashville Independent Filmmakers Festival
Human Rights Award 2022 Fine Arts Film Festival (Venice, CA)
Award Winner 2022 Docs Without Borders Film Festival
Best Local Documentary SF Indie Film Festival
Silver Award 2022 The Telly Awards (Non-Broadcast Social Issues)
Credits
Director: Joe Poni
Producer: Alex Ontiveros
Production Manager: Oscar Sotelo
Executive Producer: Salvador Chave