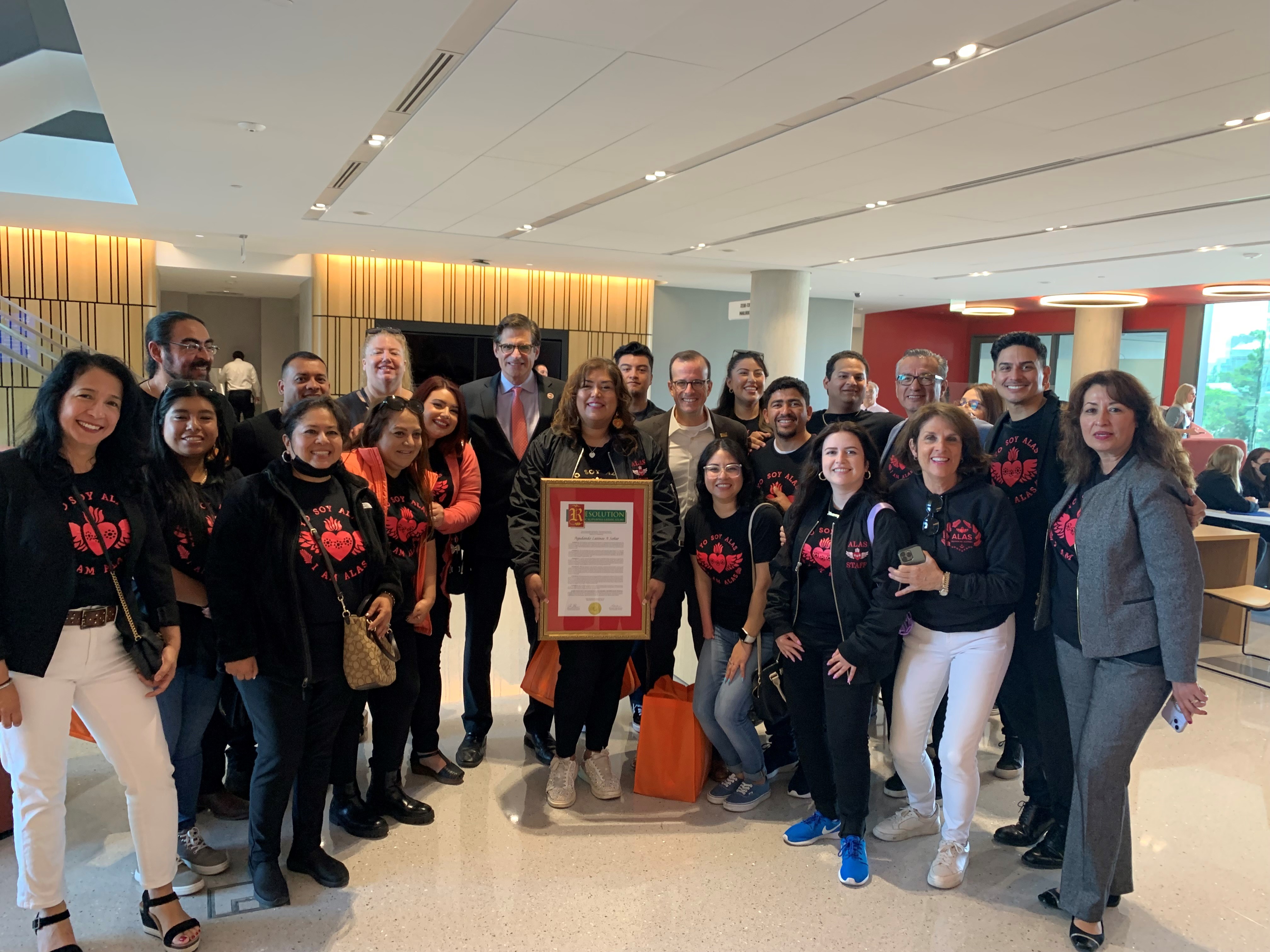 SACRAMENTO – Today Senator Josh Becker (D-San Mateo) and Assemblymember Marc Berman (D-Menlo Park) honored Ayudando Latinos A Soñar (ALAS), a social service nonprofit and farmworker advocacy organization based in Half Moon Bay as their 2023 California Nonprofit of the Year.
As part of the Legislature's commemoration of California Nonprofits Day, ALAS joined 114 other organizations that legislators have selected statewide to honor at a luncheon at the State Capitol.
"I am so pleased to jointly choose ALAS as Nonprofit of the Year along with Assemblymember Berman. ALAS has been at the forefront supporting farmworkers and families—not only highlighting concerns like living conditions, mental wellness, economic prosperity, and broadband access, but also providing solutions," said Senator Becker. "Under the direction of Dr. Belinda Hernandez-Arriaga, the staff and board of ALAS have created a vibrant communal space and have collaborated with various partners to enable them to expand their services to farms and ranches via the mobile resource center, the Farmworker Equity Express. ALAS embodies the best of California—vision, compassion, activism, hard work, humility and most of all a passion for social justice."
"ALAS has long been a leader on the Coastside, collaborating with organizations and public agencies to bring services to farmworkers and their families who sacrifice so much so we have food on the table, but who far too often fall through the cracks of societies safety net," said Assemblymember Berman. "When the farmworker community in Half Moon Bay was devastated by a mass shooting in January, ALAS stepped up to serve and care for the grieving community. ALAS honors our farmworkers who are an integral part of the San Mateo Coastside community, and whose wellbeing is fundamental to the prosperity of San Mateo County. I'm so grateful to the entire ALAS team for your dedicated and compassionate service to our farmworkers."
Each year, the California Association of Nonprofits gives state legislators an opportunity to bring attention and recognition to outstanding nonprofits and collectively illustrate the remarkable diversity and vibrancy of the California nonprofit community. The honorees serve communities in the state's metropolitan regions, suburban neighborhoods and rural communities. Like ALAS, these organizations address a wide range of issues—from homelessness and health to workers' rights, to education, the arts and the environment.
For years, ALAS has been serving the North San Mateo County Coast farmworker community with a focus on cross-cultural collaboration and building special relationships among farmworker families. Senator Becker and Assemblymember Berman will also honor ALAS with a local celebration in the district later this year.
###
Contact: Bermanpress@asm.ca.gov