Summer 2023 Newsletter
Welcome.
While everyone is enjoying the nicer summer weather, backyard barbeques, and hopefully a trip or two out of town, I wanted to send you an update on my work for our community. The Legislature is currently on our summer recess, but I'm proud to report that before we left Sacramento all of my bills passed out of the policy committees in the Senate, even in the face of opposition from powerful special interests like the gun lobby and big business.
In addition the Legislature passed, and Governor Newsom signed, the on-time, balanced 2023-24 State Budget that protects and expands core ongoing programs in education, health care, human services, public safety, wildfire protection, and housing. Not only does this year's budget grow California's historic $37.8 billion reserves, it also includes an 8% cost-of-living-adjustment (COLA) for K-12 education and community colleges, as well as a 5% COLA for the University of California (UC) and California State University (CSU) systems. This funding supports 12,000 more spots for California students at UC and CSU.
While the 23rd Assembly District is made up of incredibly diverse and varied perspectives, I often hear from constituents about our shared values—our growing anxieties about climate change and the cost of housing, our belief in the importance of excellent and well-funded schools, our desire to feel safe in our community, and our commitment to good governance, to name just a few.
If you would like to weigh in—whether it be your views on a bill or your priorities for our state more generally—I would love to hear from you. My team in the district is ramping up our fall events and I encourage you to keep an eye out for invites.
Scroll down or click one of the buttons below to learn more about what I have been working on.
In this newsletter:
Sincerely,


Marc Berman
Assemblymember, 23rd District
---
President Biden Visits AD 23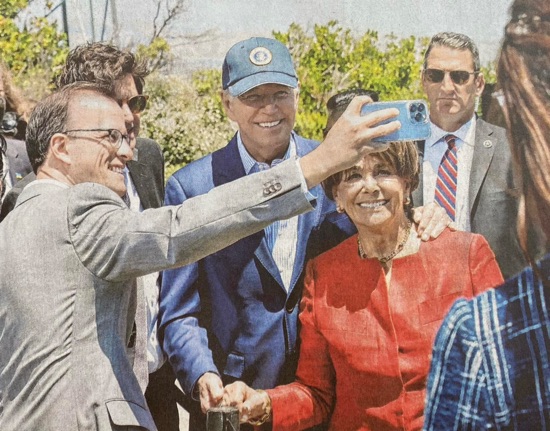 Photo: Carlos Avila Gonzalez - The San Francisco Chronicle
It was an honor to have President Joe Biden visit the 23rd Assembly District and the beautiful Baylands Nature Preserve in Palo Alto to announce historic federal climate action funding to proactively address the impacts of climate change in our communities while creating good paying jobs. The Baylands are essential for the climate resiliency of our region. The massive federal investment is a good reason to feel optimistic. Through federal, state, and local partnerships we can ensure our community is better prepared to withstand the impacts of climate change and extreme weather.
Gun Violence Prevention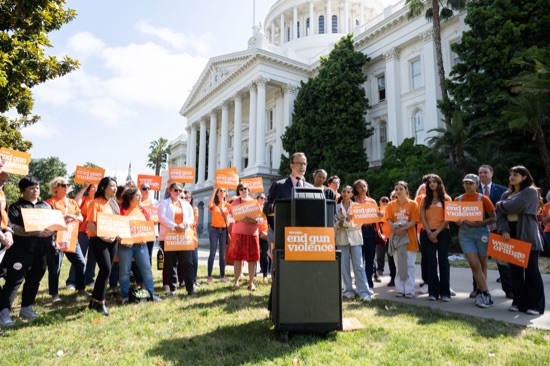 The first half of 2023 was marked by a frenzy of gun violence across our nation and, tragically, in my district. Many of my constituents wrote to me expressing grief, dread, and frustration-emotions which I share. The message was clear: do more to address gun violence.
I heard you loud and clear, and teamed up with Attorney General Rob Bonta to introduce two bills to reduce gun violence in our communities. Both bills passed out of Senate Public Safety Committee and are closer to their ultimate destination: the Governor's desk.
Smart gun safety laws work. California has some of the toughest gun safety laws in the nation, and one of the lowest firearm death rates. The Giffords Law Center ranks California No. 1 for gun safety. But as this year has shown, we have more to do to reduce gun violence in our communities, and I'm proud to help lead that effort.
AB 1420 will strengthen enforcement of gun shops that are not following California's firearm laws. I am proud to partner with Attorney General Rob Bonta to ensure that the Department of Justice has the necessary authority to inspect and write citations for any violations related to the sale, transfer, and storage of firearms. We must ensure that California's lifesaving firearm laws are enforced.
AB 1598 will get accurate information to prospective gun buyers about the real risks of keeping a gun in the home. While most people think that owning a gun will make you safer, the data clearly shows that having a firearm in the home increases the risk of death or serious injury to someone in the home by suicide, homicide, or unintentional injury. It is important that potential firearm purchasers understand these serious risks as well as what they can do to create safety measures to protect themselves and those around them.
Media Literacy Instruction - AB 873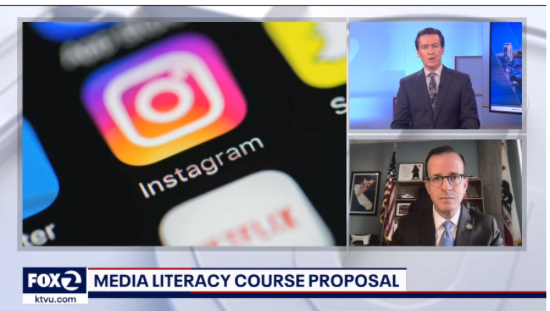 Misinformation has played a disturbingly pivotal role in our society over the last decade. From climate denial to vaccine conspiracy theories to the January 6 attack on the Capital, the spread of online misinformation has proven to be global, convincing, and dangerous. According to a 2022 report by the United Nations, 17% of public TikTok content related to the Holocaust either denied or distorted it. The same was true of almost 20% of Holocaust-related Twitter posts.
We must do more to teach the next generation to be more guarded against online propaganda, to identify misinformation, and to understand that social media algorithms narrow the content users receive, reinforcing already-held beliefs. One of the very best tools to do this is media literacy education.
This is why I am authoring AB 873 to expand media literacy instruction in schools, integrating it into core subjects that all students learn from kindergarten through 12th grade. This instruction, and strengthening these skills, is critical to the health and well-being of our youth. I'm proud that AB 873 continues to receive strong bipartisan support as it moves through the Senate.
Legislative Highlights
Computer Science Education - AB 1054
Despite growing recognition of the importance of computer science education, 60% of high schools in California do not offer any computer science courses, lagging behind 41 other states. The reality is that far too many California students grow up in the shadows of tech companies, yet go to schools that don't even offer them the opportunity to learn the skills they need to one day work there.
That's why I teamed up with Code.org, Children Now, the Silicon Valley Leadership Group and others to introduce AB 1054. This bill will guarantee access to computer science education by requiring all public high schools in California to adopt a plan to offer at least one computer science education course.
Hidden Hotel Fees - AB 537
The age of hidden fees is ending, and it couldn't come soon enough.
Reports show that U.S. hotels generate billions of dollars from mandatory hotel fees. My bill, AB 537, cracks down on this growing trend of hidden fees, or as President Biden calls them, "junk fees," and requires that mandatory hotel and resort fees be disclosed in the advertised room rate.
We've all paid these mandatory but unexpected "destination" or "resort" fees, and I'm tired of it. AB 537 will ensure that the advertised cost of your hotel stay is the real price you pay.
Industrial Electrification Roadmap - AB 841
July has officially become the world's hottest month on record, the hottest in 120,000 years, and the worst is yet to come. While California continues to be a global leader in addressing climate change, we must do much more. Mother Earth depends on it.
Industrial emissions make up 23% of greenhouse gas emissions in the state - the second largest source behind transportation. While California has been a leader in transitioning from combustion to zero emissions in the electricity and transportation sectors, industrial emissions have largely remained unaddressed and have stayed flat or even risen in recent years. AB 841 will develop an industrial electrification roadmap by July 1, 2024, creating a plan for a zero-emission transition in what has historically been considered a "hard-to-decarbonize" sector.
Prescription Caps - AB 948
AB 948 will keep out-of-pocket drug costs low for consumers by permanently extending prescription drug pricing protections, which are set to expire next year. Without these critically important protections in place, consumers could once again pay thousands of dollars in one month alone for essential medication. This bill ensures our state will never again force Californians to go bankrupt when they need life-saving medication.
Cutting Fees on Affordable Housing - AB 578
AB 578 would cut government fees imposed by the state on affordable housing developers. This will free up more funding for desperately needed affordable housing. The University of California, San Francisco conducted the largest representative study of homelessness in the United States since the mid-1990s, providing a comprehensive look at the causes and consequences of homelessness in California. The report's first policy recommendation is to increase access to housing affordability to extremely low-income households. We have a lot of work to do and AB 578 is just one of many policies we need to enact to make progress addressing housing affordability and homelessness. 
Check out the full 2023 package of bills on my website, including additional bills to modernize our elections, improve the readability of our ballots, and help students keep their financial aid.
State Funding for Local Projects
While there was less funding available than in past years for local projects, I was proud to secure $3.5 million for projects in my district that my constituents will benefit from for decades to come.
$2.5 million for farmworker housing in and around Half Moon Bay, which is a top priority of mine after the tragic farmworker shooting there earlier this year. San Mateo County farmworkers and their families are among the most economically vulnerable residents in our region. The median farmworker household income is $37,150, which is less than 20% of the San Mateo County area median income for a family of four. This economic reality has forced choices of desperation, including extreme overcrowding and the use of terribly substandard dwelling spaces.
$500,000 to retrofit the City of Los Altos' Emergency Operations Center. The recent storms revealed the need to improve the city's emergency response network. The City's community center meets all of the requirements as an essential services building, but needs to be retrofitted to house the Emergency Operations Center (EOC). The retrofit will include electrical upgrades and repairs, the acquisition of communications equipment, as well as resiliency equipment and operating items necessary for a fully functioning EOC.
$500,000 to renovate the City of Campbell's City Hall to improve accessibility and meet Americans with Disabilities Act (ADA) standards to ensure that it is fully accessible to residents, including changes to public counters and public meeting spaces. City Hall has significant daily use and these improvements will greatly benefit everyone in the community that uses these spaces to obtain services.
Lastly, I worked with my colleagues to secure $300,000 for the Oshman Family Jewish Community Center PREP Fellowship Program. An April 2022 Anti-Defamation League Audit found that antisemitic incidents reached an all-time high in 2021, with California falling in the top three states where the most incidents occurred. In 2021 alone, there were 155 antisemitic incidents on college campuses, a 21% increase from 2020. This funding will support a pilot program for teens who are preparing for college and are at risk of experiencing antisemitism.
Want to learn more about the State Budget? Check out my budget explainer from June.
Capitol Cup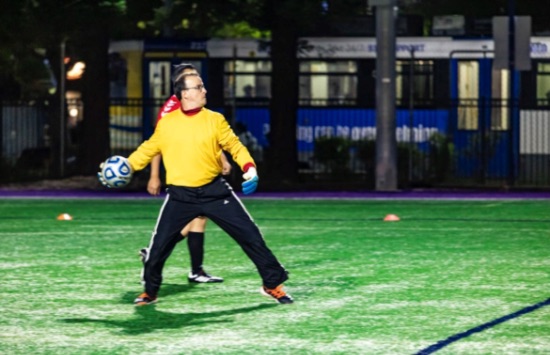 This Spring I once again took on the responsibility of defending NorCal's goal in the annual Legislative Capitol Cup soccer match. While playing goalkeeper for team NorCal may not be quite as high stakes as it was playing for Palo Alto High School 25 years ago, I can't help but give it 100%. While this probably explains my propensity for injuries every year, I was proud to be named MVP for the second year in a row. The annual match is a reminder of the importance of bipartisanship and camaraderie with colleagues, as well as a chance to raise money for the Special Olympics. It pains me a little to report that the game ended in a tie, but if you have the chance to visit my Capitol Office in Sacramento, you might just catch a glimpse of the team trophy on proud display.
Happening in the District
Insurance Town Hall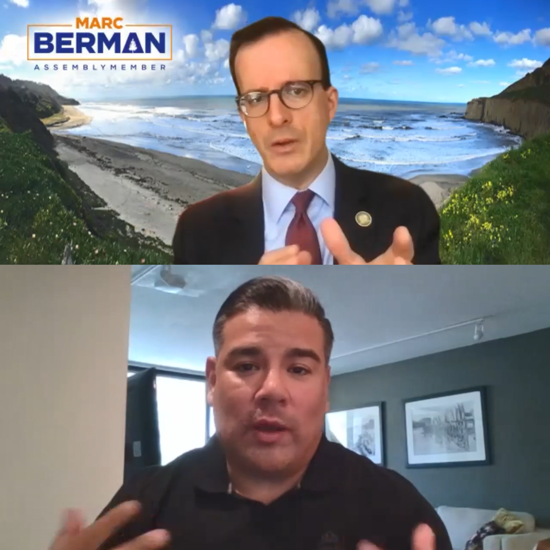 Over 340 constituents joined me for a virtual Insurance Town Hall on July 19, where we heard from California Insurance Commissioner Ricardo Lara and other distinguished guests about local insurance matters and impacts in light of recent news from a few insurance providers about changes in their policy writing for home insurance in California.
Constituents shared their own stories about their recent homeowner policy cancellations and non-renewals, and Commissioner Lara and I discussed the role and impact of regulations in the private insurance market both in the state and nationwide, what options homeowners have including the California FAIR plan, and what efforts are underway from the Department of Insurance to address a changing landscape. Woodside Mayor Chris Shaw moderated a panel with Chief Denise Enea, Fire Marshal of Woodside Fire Protection District and Executive Director of FIRE SAFE San Mateo County, Saratoga City Manager James Lindsay, and Chief Daniel Berlant, Acting State Fire Marshal at CAL FIRE. Together, we looked at the intersectional dynamics that influence insurance policy writing including wildfire hazard zone considerations, planning, and what local realities are within the district.
You can watch a recording of the virtual town hall here. In addition, we are working with the Department of Insurance to answer a compilation of questions raised during the event and will be posting that FAQ on the website in the coming weeks.
Woodside Caltrans Community Meeting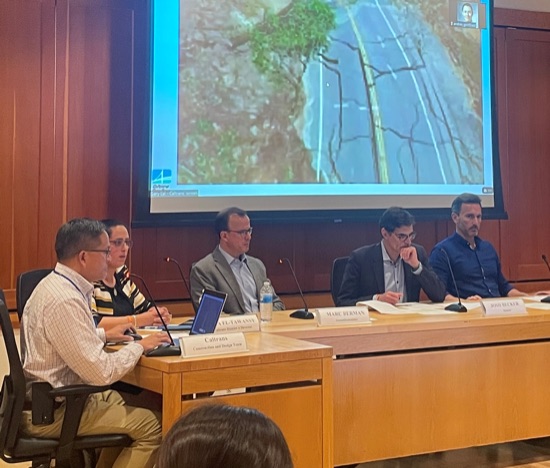 With the ongoing closure of Highway 84 between Portola Road and Fox Hill Road near Woodside, I co-hosted a community meeting on May 19 with State Senator Josh Becker, San Mateo County Supervisor Ray Mueller, and Woodside Mayor Chris Shaw to ask CalTrans to provide the public with an update on their efforts to repair the severely damaged road that had been closed since early March due to a 250-foot-wide landslide. As a result of this meeting, CalTrans expedited repairs and re-opened the road to one-way traffic control in late July. The roadway is scheduled for full opening in October, and we will continue to monitor CalTrans' progress.
Pride Month Celebrations
Two of my favorite events so far this year were Pride Month parades and celebrations in Half Moon Bay and Pacifica. We are seeing a disturbing increase in anti-LGBTQ+ rhetoric and legislation from elected officials across the country, and even here in California. The Pride parades were so full of love, joy, respect, and acceptance, and they truly captured why Pride Month is so special. To all of my LGBTQ+ constituents, I see you, I hear you, and it was an honor to celebrate this year's Pride Month with you.
Nonprofit of the Year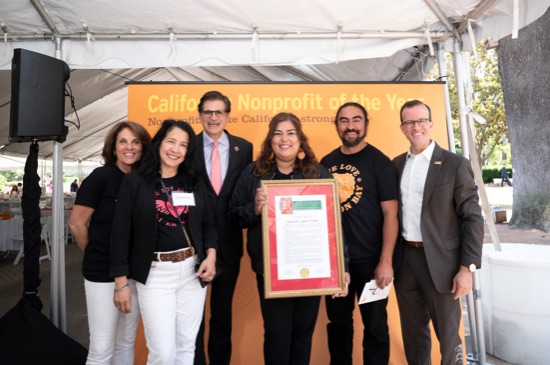 I honored Ayudando Latinos A Soñar (ALAS), a social service nonprofit and farmworker advocacy organization based in Half Moon Bay, as my 2023 California Nonprofit of the Year. In partnership with State Senator Josh Becker, we invited ALAS to visit the Capitol in Sacramento as part of the Legislature's commemoration of California Nonprofits Day.
ALAS has long been a leader on the Coastside, collaborating with organizations and public agencies to bring services to farmworkers and their families who sacrifice so we have food on the table, but who far too often fall through the cracks of society's safety net. When the farmworker community in Half Moon Bay was devastated by a mass shooting in January, ALAS stepped up to serve and care for the grieving community. ALAS honors our farmworkers who are an integral part of the San Mateo Coastside community, and whose well-being is fundamental to the prosperity of San Mateo County. I'm so grateful to the entire ALAS team for their dedicated and compassionate service to our farmworkers.
Upcoming Events
Saratoga Community Coffee
Co-hosted by Saratoga Vice Mayor Yan Zhao
Friday, August 18 from 8 to 9:30 a.m.
Big Basin Café
14471 Big Basin Way
Saratoga, CA 95070
---
Pacifica Community Coffee
Co-hosted by Pacifica Mayor Tygarjas BigStyck
Saturday, September 9 from 10:30 a.m. to noon
Pacifica Community Center
540 Crespi Drive
Pacifica, CA
---
Health Fair
Saturday, September 30 from 1 to 4 p.m.
Castlemont Elementary School
Save the Date! The AD23 Health Fair returns on September 30 from 1-4 p.m., this time at Castlemont Elementary School in the Campbell and West San Jose area as we are honored to be partnering with Campbell Union School District. Details to come.
---
Senior Scam Stopper: TBD
Join me for my annual Senior Scam Stopper later this year. Scams targeting seniors are on the rise. Tune in to learn how to keep yourself and your loved ones safe. Details to come.